L. Gaylord Sportswear, Inc.
Gaylord Sportswear is one of our first clients. They had been providing custom embroidered, screen printed and sublimated sportswear for the sailing world, camps, corporations and cycling teams for years. As the 'Official Supplier' to the Transpac Race for over 25 years they were needing a website to not only increase their own marketing but also to establish e-commerce capabilities for the purchase of Transpac Race Gear.
With their website established they were able to meet their client's needs. They have subsequently not only maintained that Transpac relationship, but have expanded it to include Transpacific Yacht Club apparel. We have also developed 'private' shopping websites for many of their other clients and clubs. We are happy to have Gaylord Sportswear as a client and have recently finished a complete revamp of their website.

visit website

Website Screen Captures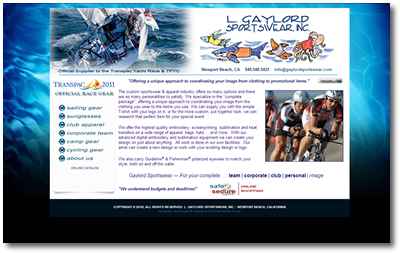 contact us